Scheduled service and repairs are important to keep your boat, pontoon, or jet ski running smoothly. It's no fun to be stranded in the middle of the water !
We can repair or replace motors or other parts for you, but the most important thing we can do is perform regular maintenance or give your motor a check up to make sure it's running smoothly.
Still, breakdowns will occur. We can pick up your watercraft whether it's in the middle of the lake or not (sometimes even if it's under the water), and bring it back to our facility for repairs. Just give us a call!
Need a trailer to move your watercraft? We have trailers to rent or we can pick up and deliver.
We have a few pontoon boats for rent by the day or week. We supply life jackets (adult-sized) and one tank of fuel and will deliver to the lake. Full payment of $250/day or $150/half day (4 hours) cash is expected before delivery. A full week rental is $1500.  A cash deposit of $500 is required to reserve a boat, which will be held and refunded upon inspection when we pick up the boat from you at the end of your rental time. Renters must follow all boating laws.
We also have brand new Sea-doo Spark rentals, hourly, daily or weekly. It is $100 for one hour $280 for three hours, $520 for eight hours; or $770 for two days and $1,770 for a week. A $500 deposit is required to serve as a damage deposit and to hold your dates. We have a 3 seater and a two seater that are fully equipped and ready to go.
NEW THIS YEAR: SNOWMOBILE RENTALS!! Rent a 2021 Ski Doo Back Country 600 now! $225 for four hours, $350 for eight hours, $500 for 24 hours. Do a 7 day rental and get the 7th day free! $500 security deposit required. Trailer rental also available for $125 per day.
Damage or bend your prop? We can send it out for repair, with a quick turnaround time (maximum 1 week.)
Is the floor of your boat rotting or going soft? Is the carpet wearing out? We can replace that for you with a new floor and carpet or vinyl. Just ask for an estimate.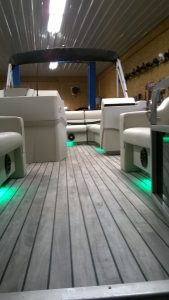 In addition to watercraft, we also service ATVs, SXSs, golf carts, lawnmowers, leaf blowers, string trimmers, snowmobiles, snowblowers, chainsaws and other small engines. We can sharpen mower blades and chainsaw chains, too.
FOR ALL SERVICES, PAYMENT IS EXPECTED AT TIME OF PICK-UP. NO EXCEPTIONS.